An Excellent Approach for OST to PDF Conversion!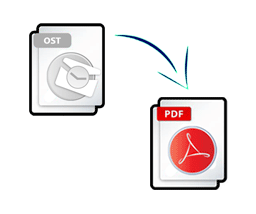 Exchange OST file provides users a medium to access emails without needing the Exchange server environment. This OST file is a complete replica of the Exchange mailbox emails and stores emails, contacts, calendars, etc. in it. But this OST file is also restricted in some situations as this OST file can be accessed only the system where it has been configured. This file cannot be copied to another system and if user wants to access the emails in some other machine he will not be able to do so. Situations can get graver when users want to access emails or transfer email data to some non-Windows users. In all such situations OST to PDF conversion can be suitable approach through which Exchange emails can be converted to PDF files. Our OST file data to PDF conversion tool facilitates this conversion and help users to convert OST to PDF including all the data types of OST file like emails, contacts, calendars, etc.
Why is OST to PDF Conversion Needed?
PDF files can be accessed and viewed easily using Adobe Reader. It is much secured file format and many users utilize this for transporting the information securely. Moreover whenever there is a need for presenting the email message as evidence, PDF file format is considered as standardized format which can be represented in courts. This will need a professional technique for OST to PDF conversion. Our tool is designed to perform this expertise conversion without any flaw and guarantees conversion of complete email data along with the attachment and Meta data. It also focuses on conversion of emails, calendars, contacts, etc. and is capable to perform conversion of emails in bulk at once.
Highlighting Features of OST to PDF Converter
This tool is a perfect mode to let you know how to convert Outlook OST emails to PDF, export OST file in PDF. It is embedded with several features which can improve the conversion procedure. Some of them are listed here;
Convert OST in Batch: This software is capable to export OST file in PDF files in bulk. One can add multiple OST files at once and the email data belonging to all these files will be converted to PDF files.
Selective Item Conversion: Selective email items of Exchange OST file can be converted to PDF files. This limits the unwanted email or folder conversion to PDF file saving time and efforts.
Conversion Retaining Attributes: Technical attributes of the emails and other data types are retained and thus there is no manipulation done on the OST file data elements.
No Need of Acrobat Installation: This software is a standalone application and thus OST to PDF converter application does not require Acrobat installation in the machine.